Features
A wide range of nozzles and shapes for any desoldering
Use of high thermal efficiency N61 series nozzles
N61 series nozzles can also be used for HAKKO FR410 desoldering station.
* N61 series nozzles cannot be used for FR300.
A wide range of nozzles and shapes for secure desoldering
The nozzles lineup includes diameters from 0.6 mm to 1.6 mm and also oval shape nozzles.
Desoldering on micro land and in fine pitch can be possible.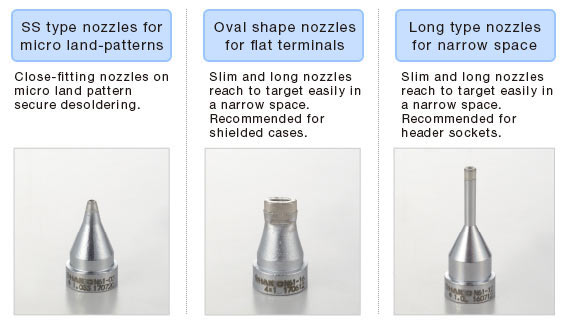 N61 series nozzles for FR301
Equipped with high-precision temperature control function
Uses HAKKO's unique sensor feedback control method.
Easy temperature control
– CAL enables fine adjustment of temperature
– LED indicators let you easily see when the heater is active and idling at your temperature setting.

Reduction of solder clogging by improved heating core
* In comparison with the previous model

Easy filter maintenace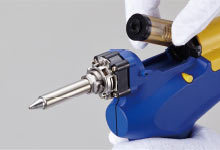 The structure of the filter pipe is same as HAKKO FR410 desoldering station. That makes it easier to clean the filter pipe compared to the previous model.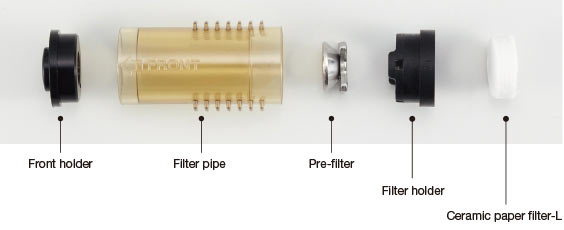 Part numbers of the replacement parts
The filter pipe assembly, a set of the five parts, is also available.
Quick Change Nozzle System provides speed and safety
The Quick Change Nozzle System allows for a safer and simpler method to quickly remove nozzles for cleaning or replacement, even when the unit is hot.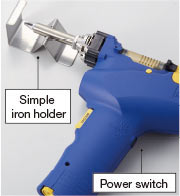 Includes simple iron holder
Prevents burns and accidents with hot parts
Power switch on grip
Convenient for temporal stop of operation. Turning off the power can reduce nozzle oxidation.


Includes carrying case
Comes with a carrying case for prompt storage after use.